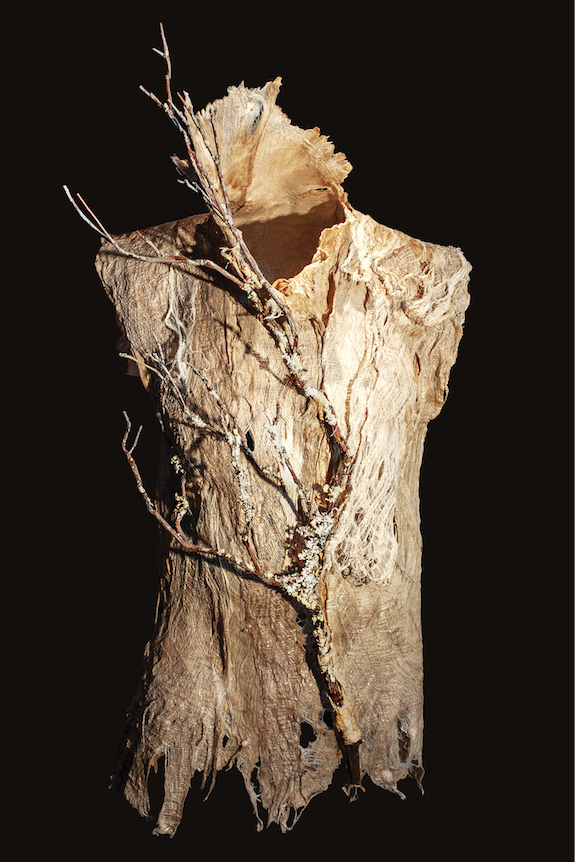 ARTIST STATEMENT:
The SCULPTURE of New York artist Frances Vye Wilson, both abstract and figurative is made from the cambium fiber of the Asian mulberry harvested in rural Laos. Used by the Yao tribe for religious rituals and wrapping opium, post- Vietnam War it has become part of the initiative to raise the standard of living of the mountain people in the making of paper products.
Discovering this new art medium that appears fragile but is resilient and strong, the artist explores that fragile quality of life that exists within our emotional, cultural, and environmental lives. The works reflect her belief that underlying this, there exists the ability to adapt, survive, and perpetuate.
The SOCIAL WARRIOR SERIES draws on her father's elaborate uniforms of the Scottish military. Social issues have become the new battleground.
The CAMBIUM FOREST SERIES speaks to our ability to adapt and survive as part of life's natural order. Nature is a protective force.
BIO:
Frances Vye Wilson was born in Victoria, British Columbia, Canada. She was strongly influenced by her family of contemporary artists working in a variety of media. In her 20's, she studied fine art and choreography at Simon Fraser University in Vancouver, British Columbia. She went on to spend much of her life in the film and television industry as a member of the Screen Actors Guild, a theatre producer for the Actors Studio and founder of a film production company, New Century Filmworks. A 12 year immersive study of the Japanese art form Ikebana culminated in two exhibits at the Metropolitan Museum of Art. She returned again in 2013 to New York to pursue her passion for art and in particular, sculpture, studying sculpture and mixed media at the National Academy Museum and New York School of Art.
She is presently residing in the West Village and works at her studio on West 29th St.
CV:

EDUCATION
2017-2018
New York School Of Art, New York, NY
2015-2016
National Academy Museum and School, New York, NY
2015
Art Students League, New York, NY
2006-2015
Ikebana, Sogetsu School, NY
1986-1987
Parsons School of Design, Floral Design, New York, NY
Simon Fraser University, Fine Arts, Choreography, Dance, Vancouver, BC.
SELECTED EXHIBITIONS
2020
Art Fair, Super Fine: Myth, T BA, New York, NY
2019
Group Show, 30th Annual International Juried Exhibition, Viridian Artists, New York, NY
GroupShow, 4 Elements, Van Der Plas, NewYork,NY GroupShow, Aestivus, J.J.Newberry, Saugerties,NY
GroupShow,WorksOnPaper2019, MarylandFederationOfArt:CircleGallery,Annapolis,MD Group Show, Art Hearts Fashion, Angel Orensanz Foundation, New York, NY
Solo Show, Recent Works in Cambium Fiber, Gigantic Studios, New York, NY
2018
GroupShow, Elegant Threads, LighthouseArtsCenter, Tequesta,FL
Open Studio Exhibition, Highline Open Studio Tour, New York, NY GroupShow, Art Elevated, Garment District,NewYork,NY
Group Show, Luxurious Growth, Lichtundfire, New York, NY
Group Show, Lighthouse Arts Center, Tequesta, FL GroupShow,Sailfish Point Annual Art Show, HutchinsonIsland,FL
Group Show, Florida Oceanographic Annual Gala: Oceans Alive, Stuart, FL
Open Studio Exhibition, High Line Open Studio Preview Exhibition, New York, NY
Open Studio Exhibition, High Line Open Studio Tour, New York, NY
2017
Open Studio Exhibition, Highline Open Studio Tour, New York, NY
Group Show, Opening Exhibition, New York School of Art, New York, NY
Open Studio Exhibition, Chelsea Open Studio Tour, New York, NY
Open Studio Exhibition, High Line Open Studio Tour, New York, NY GroupShow, Art in Bloom, Vero Beach Art Museum,Vero Beach,FL GroupShow,
SailfishPointAnnualArtShow, HutchinsonIsland,FL
2016
Open Studio Exhibition, High Line Open Studio Tour, New York, NY
Open Studio Exhibition, Chelsea Open Studio Tour, New York, NY GroupShow,SailfishPoint Annual Art Show, Hutchinson Island, FL Group Show,Art In Bloom, Vero Beach Art Museum, Vero Beach, FL
Group Show, Silvermine Art Guild, New Canaan, CT
2015
Group Show, Ikebana International, Metropolitan Museum of Art, New York, NY Group Show, Creative Mischief, National Academy Museum, New York, NY Group Show, Silvermine Art Guild, New Canaan, CT GroupShow, Sailfish Point Annual Art Show, Hutchinson Island,FL
2014
Group Show, Ikebana International, Metropolitan Museum of Art, New York, NY Group Show, Ikebana International, Los Angeles, CA
AWARDS
2019
2nd Place, 30th Annual International Juried Exhibition, Viridian Artists, New York, NY 2018
Selected Artist, Art Elevated, The Garment District, New York, NY
Honorable Mention, Elegant Threads and Surface Design, Tequesta, FL
First Prize, Lighthouse Museum Art Center, Jupiter, FL
2017
Best Interpretation, Art In Bloom, Vero Beach Museum of Art, Vero Beach, FL
2016
Best in Show, Botanical Art, Darien CT Flower Show, Darien, CT
2012
Second Place, Florescence Flower Show, Houston, TX
First Place, Botanical Art, Philadelphia Flower Show