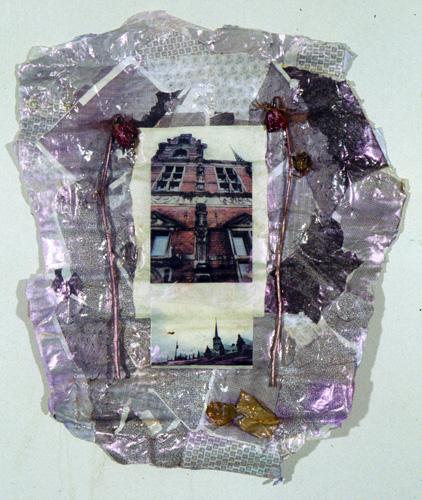 ARTIST'S STATEMENT
Writing about how I create. Not an easy task … as hard to do as making art, this describing. I must lock myself in my studio and wrestle with my demons.
All of my art, regards of the media, is an archeology of the self. I want to communicate with the viewer through the commonality of our experience. The maze of reality, of time passing is unstoppable. The past gives clues to the future. The making of the art is like having a dream– coming from within, the outpouring having a life of it's own. In my role as artist I am but a messenger, a shaman.
Both my visual art and performance art comes out of intuitive experience, the many people I have met & known & journeys I have taken to places both real and imagined. What life might be there now? Who will I meet? Who will I become? What ghosts of past lives inhabit us now? Places I have visited in reality– like Budapest of my ancestral past, the cafes of Paris, the fishing villages of Portugal, the deserts of Arizona, the mythical, spirit-filled ruins of Greece and Mexico. The mysteriously powerful spirituality, the connection to the past & its power — a wish to connect personally to those spirits is the quest I am engaged in artistically.
My images are multi-layered and personal. I want the meanings to remain unclear, to create a kinship that leaves one thoughtful, as one's understanding of reality often does– open to interpretation and re-interpretation. I want my images to reveal themselves slowly, subtly and ambiguously over time, just as our experience and interpretation of life gradually changes as we age.
Unlike an archaeologist uncovering evidence by removing layers, I am the artist who creates evidence– layer upon layer– calculatedly and intuitively. . My visual art usually emerges as installation and collage but encompasses all media. The texture of fabric, of flesh, wrinkles, folds, fragments and innuendos of form– they all give evidence of having been there… fragments of images that allude to matters beyond explanation. Who am I? Who am I speaking to?
I was young and now I am aging. No longer do I paint in oil on canvas. Now I want to explore chance connections by making art of lowly materials, of beautiful detritus. I have always seen art as something very mysterious, beyond words. I use my art as a way to maybe understand. I worry. I dream. I fantasize. I misplace things. I love to travel. I want to save the world by never throwing anything away.
In 1997 I wrote: "My art is about anger, pain, pleasure, hopes, regrets, mistakes, love, hate, freedom, recycling, adolescence, childhood, dolls, aging, happiness, fantasies, dread, fear, beauty, nature, politics, power, destruction, distraction, sexuality, sexism, feminism, spirituality, illness, healing, drugs, envy, science, art, history, memories, dreams, nightmares, hopelessness, confusion, play, daddy, mommy, secrets, lies, life, death, detritus, innuendo, art making and chance." It still is.
Official Website: http://www.ncognita.com
EDUCATION
BFA cum laude, Ohio University
MA, New York University (full fellowship)
Additional study: Cleveland Institute of Art; Brooklyn Museum School; Fashion Institute of Technology;
School of Visual Arts; Naropa Institute; Performance Writing with Simone Forti
Butoh movement: with Noboru Kamita, Eiko, Kim Ito, Akira Kasai, Atsushi Takenouchi, Ko Murobushi, Yumiko Yoshioka, Hiroshi Koike & others at Japan Society & The Cave in Williamsburgh, Bklyn with Katsura Kan & Ximena Garnica;
Time Based Art (TBA) Festival in Portland OR with 33 Fainting Spells; Deborah Hay, etc.
GRANTS & AWARDS
2011 NACL- North American Cultural Laboratory Residency, The Field
2010 FarSpace Grant, The Field
2009 Movement Research Monday Night Series
2008 Field Work at EarthDance, Massachusetts, Artist in Resident
2007 Puffin Grant for Art From Detritus Exhibit
2004-2011 7 Years of Living Art, created by Linda Montano
2000 Travel Grant, Performance Studies International (PSI) Mainz, Gr.
1997 IACP Grant from THE FIELD, NYC
1995 Kauffman Foundation (for "Art from Detritus"), Kansas City MO
1988 Jerome Foundation (Franklin Furnace Fund for Performance Art)
1986,87 NYSCA (Experimental Intermedia & Snug Harbor Cultural Center)
1985 NEA (Los Angeles Women's Building & Franklin Furnace)
1981 Artist in Residence: The Millay Colony for the Arts
1979.88 Artists' Space Exhibition Grant
1966 NDEA Fellowship to New York University
LINKS: http://thedorseypost.com/?p=839 "How Not To Order The Most Expensive Item" The Dorsey Post. Dec 7, 2011
http://thedorseypost.com/?p=1137 "Invisibility Made Visible" The Dorsey Post. Feb 20, 2012