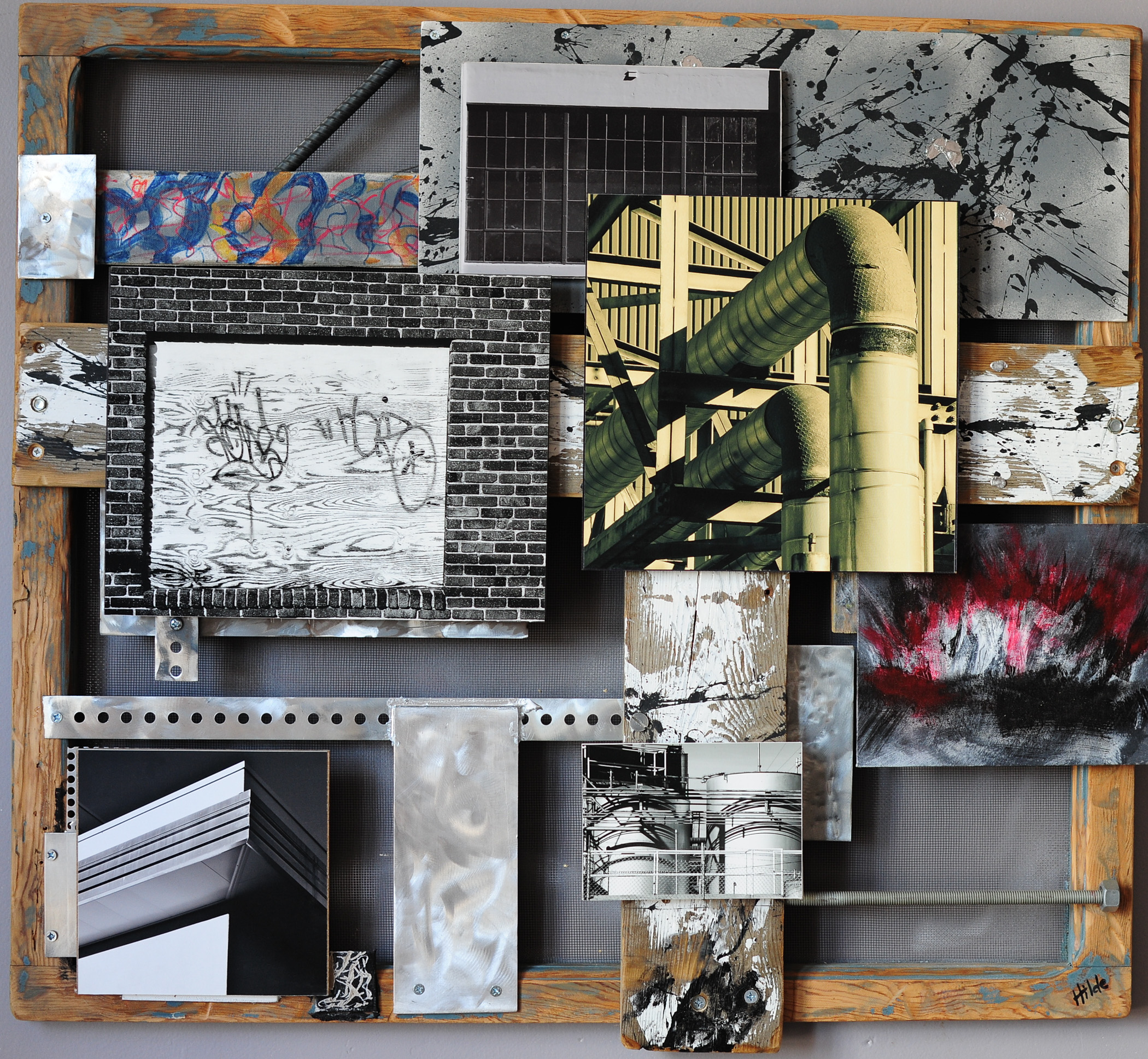 Charles Hildebrandt was born and raised in Maryland, and moved to North Carolina in 2000. His work started in photography, but has grown to include mixed media collage and acrylic landscapes. Many of his mixed media pieces involve his photographic work, but also include acrylic, sheet metal, and other materials. Hildebrandt completed a BA from East Carolina University in 1990, and a MLIS from the University of North Carolina at Greensboro in 2003. His work has appeared locally through shows at Associated Artist of Winston-Salem, and he received an honorable mention for his mixed media piece "American Farm Splendor" for the 2010 National Juried Show Dimensions. He is currently represented at 4th Street Art & Frame in Winston-Salem, NC, and has shown at Delurk Gallery in Winston-Salem, Principle Gallery in Alexandria, VA., and Viridian Artists in NYC. He lives and works in Winston-Salem, NC.
CV
EDUCATION
1990 - Bachelor of Arts – East Carolina University
2003 - Masters in Library & Information Studies – University of North Carolina at Greensboro
PAST SHOWS
Viridian Artists – New York, NY
Viridian's 28th Annual International Juried Exhibition
Juried by Susan Thompson, Assistant Curator at the Guggenheim Museum
June 27– July 15, 2017
"Undergrowth" (mixed media) – Presented digitally during exhibition opening
Delurk Gallery – Winston-Salem, NC
The Kitchen Sink 2017
"Urbanite Redux" (mixed media)
"Raising Cain and Hope" – acrylic on canvas
Principle Gallery – Alexandria, VA
Root to Bloom November 2016 – International juried fine art competition –
"Brewing" – acrylic on canvas
Delurk Gallery
The Kitchen Sink 2016 – Open call exhibition
"Clear for Swimming" (acrylic on canvas)
Associated Artists of Winston-Salem
Dimensions – 2015 - National Juried Fine Art Competition & Exhibition
Womble Carlyle Gallery – Milton Rhodes Center for the Arts
Juror: Paul Bright, Wake Forest University "Space Available" (mixed media)
Delurk Gallery, Winston-Salem, NC
LightNOISE 2015 – all photography show
East Carolina University – Wellington B. Gray Gallery
Photographic Image Biennial Exhibition – 2015
Juror: Burk Uzzle
"Trail's End" (photograph)
Indiscriminate Distinctions Exhibition
November 2014, Winston-Salem, NC
Juried show based on author Warren Dunn's book Indiscriminate Distinctions. Mixed media piece created as interpretation of book passage.
Associated Artists of Winston-Salem
Exposures 2011 – All Member Judged Show
Juror: Leo Morrissey
Two mixed-media pieces featured
Associated Artists of Winston-Salem
Cultural Crossroads Fall 2010 – National Juried Fine Art Competition & Exhibition
Juror: Colin Quashie, Artist
"American Farm Splendor" (mixed media)
Awards: Honorable mention
Associated Artists of Winston-Salem
Dimensions Spring 2010 – National Juried Fine Art Competition & Exhibition
Juror: Robert Lange, Robert Lange Studios, Charleston, SC "Freedom" (photography)